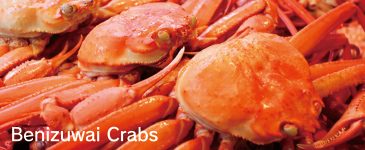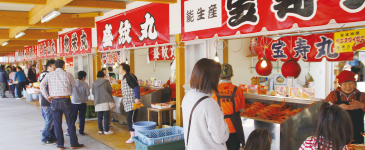 Mountains of Delicious Crabs!
Kaniya Yokocho
At Kaniya Yokocho - Crab Market Street - there are mountains of bright red Benizuwai Crabs (red snow crabs), caught fresh in the waters off Nou! Buy your crabs direct from one of the crab boat stalls and enjoy them right on site! This is the largest market of its kind on the Sea of Japan with nine different vendors selling their freshly caught crabs.
Regular (April 25 to October 30) 8:00 – 17:00
Winter (November 1 to April 24) 8:00 – 17:00
※The crab fishing season is closed during January and February. Some crab shops remain open during this time, but they may sell crabs from outside Niigata Prefecture during this time.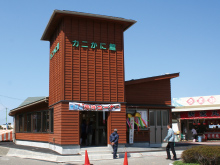 Savor your fresh crabs at Kanikani Kan!
In accordance with the Food Hygiene Lay, Benizuwai Crabs cannot be taken on airplanes so you can't take them home with you. But don't worry, you can enjoy your crabs right here at Kanikani Kani, located right next to Kaniya Yokocho! The crabs are precooked and ready to eat, just tear in and enjoy the rich, sweet flavor of Nou's Benizuwai Crabs. The facility is air-conditioned and includes areas to wash your hands for easy cleanup after your meal.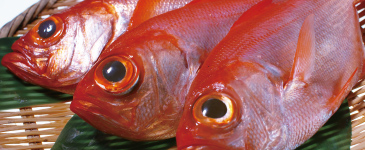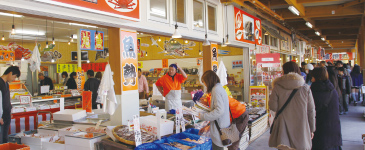 Fresh and delicious!
Fresh Fish Center
Browse a wide variety of fresh fish caught both locally in the Nou Region and throughout the Sea of Japan. In the summer fresh rock oysters are a special treat. We can grill them up for you to eat on site along with a variety of other freshly caught seafood.
January to February
March
April to September
October to December
8:00 – 16:30
8:00 – 17:00
8:00 – 17:30
8:00 – 17:00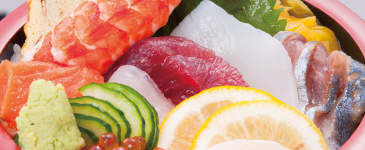 Fill up on delicacies of the sea!
Restaurant Guide
The restaurants at Nou Marine Dream offer special menu items not available elsewhere.
Come get your fill of fresh seafood and enjoy a variety of dining experiences.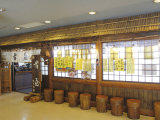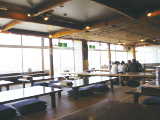 Tel: 025-566-3423
Business hours: 10:00 – 18:00
Closed: New Year's Day

Locally caught fish from the Sea of Japan, chef's specials, codfish soup and more!
MENU
...and more!
Seafood Rice Bowls & Set Meals

Nagi 2F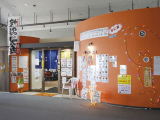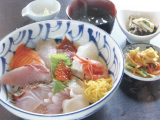 Tel: 025-556-6655
Business hours: 10:30 – 16:00,
Sat.& Sun., holidays 10:00 – 16:00 (closing times may vary).
Closed: New Year's Day

Serving seafood from shop Uomasa located on the premises. Enjoy fresh seafood dishes at reasonable prices.
MENU
Tax-included price
...and more!
Seaside Cafe

Leaf Kitchen 1F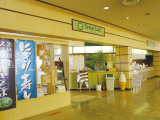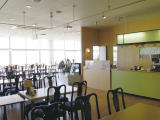 Tel: 025-566-3433
Business hours: 10:00 – 18:00,
last order 17:30
Open all year

Freshly caught fish from the Sea of Japan. Enjoy your meal while gazing out on the Sea of Japan. Enjoy red snow crabs and famous red shrimp from Itoigawa. An abundance of seafood awaits you! Our gelato is also one of our most popular items.
MENU
...and more!
Seaside Fast Food

Milky Way 1F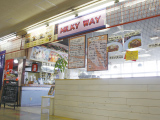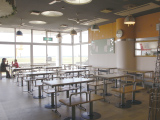 Tel: 025-566-5041
Business hours:
(Jan. to early Mar.) – 9:00 to 17:00, last order 16:00
(mid. Mar. to Dec.) – 9:00 to 18:00, last order 17:00
Closed: New Year's Day

Featuring traditional ramen, soft-serve ice cream and Nou's famous Benizuwai crabs. Enjoy a fusion of Japanese and Western cuisine at Milky Way, perfect if you're looking for something light and quick! We are looking forward to your visit!
MENU
...and more!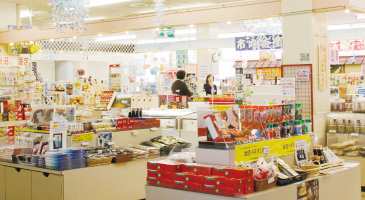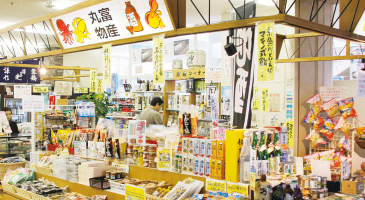 Popular Gifts & Tasty Treats!
Gift & Produce Center
Riches of the mountains and the sea. Find popular local produce and gifts as well as specialty products only available here! Give the gift of taste, courtesy of Nou and Itoigawa!
January to March 15 -
weekdays 9:00 to 17:00, - weekends 9:00 to 17:30
from March 18 - 9:00 to 18:00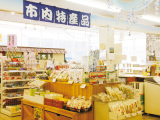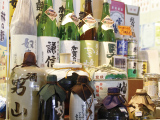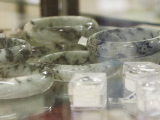 The Souvenir & Produce Center at Marine Dream Nou stocks a wide variety of products from Nou and Itoigawa. In addition to gifts and souvenirs, browse local seafood products, rice, sweets and more! We also stock a selection of sake (rice wine) from Itoigawa's five local craft breweries.
Be sure to check out the seafood products created by students of the Bioresource Sciences Club at the local Kaiyo High School, like their popular salmon fish sauce, "Saigo no Itteki."
Aji Delivery Service,
Yamato Transport
Just about anything you buy at the souvenir shop can be sent just about anywhere in Japan via Yamato Transport's Aji Delivery Service. Avoid the hassle of bringing extra luggage on the plane by letting Yamato Transport carefully deliver your package to your friends, family or your home!